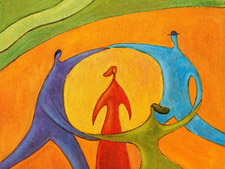 Grand Valley Institution for Women (GVI) is located in Kitchener and is one of five regional facilities for federally sentenced women in Canada. In addition, there is an Aboriginal Healing Lodge out West.
In partnership with several community agencies, the Waterloo Region Crime Prevention Council hosted five Annual Forums for Federally Sentenced Women:
Mental health and Addictions: "Out of Prison and into the Community"  (2010)
Employability: "From Prison to the Workplace" (2011)
Housing: "From Prison to a Place Called Home" (2012)
Community Connections: "Celebrating and Enhancing Community Connections" (2013)
Leisure and Recreation  (2014)
Forum Outcomes
Entrepreneurship Course offered through the Accelerator Centre. Business leaders in our community donate their time and expertise to teach the women in GVI different aspects of starting their own business. To date, almost 70 women have completed this program.
 Work Releases provide women with the opportunity to work in the community during the day and return to the prison at night. Several work releases have been established as a result of the past forums.
 Xtreme Bootcamp, a local gym, has offered to deliver exercise and nutrition sessions in the prison. These two-hour sessions were offered once a week in 8 week blocks throughout the year.
 The Sexual Assault Support Centre of KW offered their individual counselling services to women in GVI. They will be offered at their site in the community and the women can utilize a temporary absence from the prison to partake in these services.
Forum participants indicate their willingness to volunteer at GVI in some capacity, either through Chaplaincy, as a driving escort, or through the Stride program at Community justice Initiatives