Safer Neighbourhoods
Neighbourhoods can be faced with many challenges that contribute to crime and fear of crime. To address these challenges neighbourhoods require:
• Citizen involvement
• Support of local leaders
• Partnership with service providers
• Access to basic means (e.g. a place to meet)
By working together, community members are mobilized, residents can build on local skills, and services can complement these efforts towards creating safer neighbourhoods.
Success Story
Residents of the Victoria Park neighbourhood in Kitchener worked through a trying year of community safety challenges and violence to make it a better place to live for their families.
The Integrated Model for Crime Prevention
"Who leads what & when?"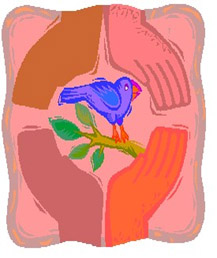 The Integrated Model For Crime Prevention identifies how neighbourhoods, law enforcement, service providers, policy makers and citizens can each play a vital role in finding solutions to community problems.
The model is based on a shared understanding that crime is a complex issue with roots in economic, social, cultural, family and individual conditions. It takes a comprehensive look at the prevention, intervention, recovery and renewal phases of crime. We know there is greater success when partnerships are present and citizens become engaged with creating solutions for their neighbourhood.
In 2002, Waterloo Regional Police, the Crime Prevention Council, and residents from neighbourhoods across Waterloo Region came together to develop this model for seamless and integrated crime prevention actions in neighbourhoods.