The Integrated Drugs Strategy provides a road map of where we want to go and how we plan to get there.
Problematic substance use affects people's lives and our communities. The Waterloo Region Integrated Drugs Strategy aims to make Waterloo Region safer and healthier.
It offers 99 recommendations to prevent, reduce or eliminate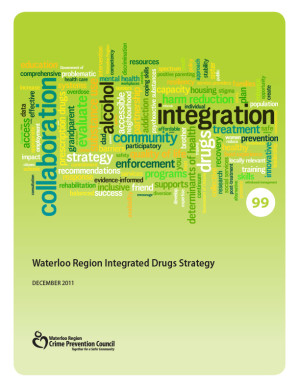 problematic substance use and its consequences. The actions recommend change through:
Prevention
Recovery & Rehabilitation
Harm Reduction
Enforcement & Justice
The strategy was developed in 2011 by a 26-member Task Force of the Crime Prevention Council in consultation with more than 300 citizens and service providers across Waterloo Region.
For more information visit the Waterloo Region Integrated Drugs Strategy website