Web and Video Resources: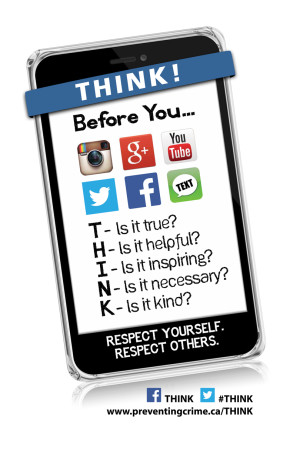 Bullying Awareness Week – information and activities (all grades)
Common Sense Media – K-12 Digital Literacy and Citizenship Curriculum – classroom activities, interactive lessons, videos, posters and more (all grades)
Digital Citizenship – definitions, lesson plans and a wealth of other resources (all grades)
Facebook for Educators and Community Leaders – A Practical Guide – (Gr. 9 – 12)
Google in Education – Understanding YouTube and Digital Citizenship – (Gr. 9 – 12)
MediaSmarts (formerly Media Awareness Network) – mediasmarts.ca, @mediasmarts"is a Canadian, not-for-profit centre for digital and media literacy. Its vision is that young people have the critical thinking skills to engage with media as active and informed digital citizens." This is an outstanding website with excellent resources for young people, teachers, parents and interested community members.
The following are excellent classroom activities from MediaSmarts:
OPHEA – Healthy Schools, Healthy Communities – this resource called ConnectED is a "free bilingual web based resource that teaches students in Grades 4, 5 & 6 how to be safer in an ever-changing world of technology."
RCMP – Cyberbullying video – excellent format, strong message (Gr. 7 – 12)
Stop Cyberbullying – http://stopcyberbullying.org/index2.html (all ages)
"Weapon of Choice" – a very powerful video – text written and read by Poetry Slam Artist Holly Painter, video by students from Jacob Hespeler SS (Gr. 9 – 12)
MediaSmarts – Stay on the Path Teaching Kids to be Safe and Ethical Online
Making Digital Citizenship Cool