Don't Be Shy, Just Say Hi!
Building a strong, caring community is one of our most effective crime prevention tools.
Our "Say Hi" campaign nurtures a sense of caring, belonging and responsibility in our community and encourages people to get to know their neighbours by saying hi.
Register your school for Say Hi Day.
Why Say Hi?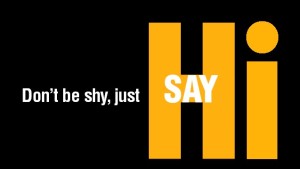 By saying Hi you will:
Connect with people in your community
Nurture a sense of belonging & inclusion
Remove barriers that separate people
Start a dialogue about community safety
Small steps build safe communities. Take the first step and say "Hi".
How do we know it works?
In two ground breaking studies by the Harvard School of Public Health, thousands of interviews were conducted in 196 Chicago neighbourhoods. The studies showed that neighbourhoods where people worked together to solve common problems were stronger and more resilient to crime.