We are inspired to work for social justice and positive change by addressing the root causes of crime.
Preventing crime before it happens, is the smart thing to do.
Smart on Crime in Waterloo Region is our community plan for engaging the entire region, from the grassroots to the highest levels of decision making. Everyone can contribute to the health and safety of our community.
Smart on Crime 2015-2018
Our Smart on Crime 2015-2018 community plan is the road map that will guide our work over the next four years.
In 2014 we consulted with nearly 1,500 people in our community through surveys, focus groups and community consultations. The data we gathered revealed a number of themes related to root causes of crime that helped to shape the direction of this Smart on Crime plan which focuses on three priority areas:
Youth:  Unleashing the Potential of ALL Youth
Neighbourhoods: Building Local Capacity for Change
Smart on Crime:  Advancing the Momentum
View a summarized version of the plan or print your own copy.
The data is available in a background document Root_Causes_of_Crime_in_Waterloo_Region_Consultation_Report (2015).
Together we will continue to build a community that is safe and vibrant for all people living in Waterloo Region.
Smart on Crime 2010-2014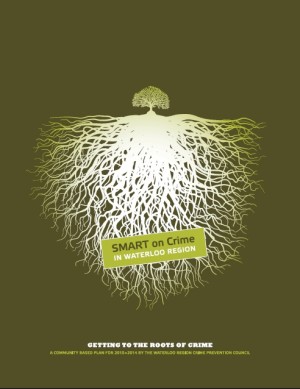 Smart on Crime in Waterloo Region (2010-2014) was our first community plan released under the 'Smart on Crime' theme. It established a solid foundation for an approach to community safety that focused on local needs and capacities.
View the 2010-2014 Smart on Crime Plan.
So how did we do? 
The Evaluation summary tells the story of some of our achievements and challenges, provided insights into the lessons learned and made recommendations for the next phase.
The evaluation measured the following areas of impact:  Reach, Understanding Change. Read the Evaluation Summary .
Smart on crime means …
making prevention a community priority.