Meet us on the porch!
This June, Friends of Crime Prevention presents Porch Chats. Three community conversations about issues that matter, with community leaders who are creating change. Meet on the porch, then join us for conversation in the garden.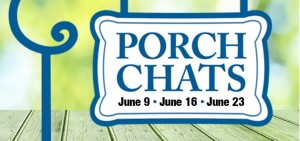 Front Porch, Governor's House
73 Queen Street North, Kitchener
6:30-8pm
June 9, 2016
Learning circles from a First Nations perspective: Truth & Reconciliation
with Tammy Webster, Gerard Sagassigge & friends
June 16, 2016
Naming the issue: Race, Religion & Creating Welcoming Spaces
with Sarah Shafiq, Fanis Juma-Radstake & friends
June 23, 2016
What's your role: Sexual Violence & Consent
with Joan Tuchlinsky, Eleanor McGrath & friends
Find out more and let us know you're coming through the WRCPC Facebook page.