Beyond the Porch
Earlier this year Friends of Crime Prevention hosted Porch Chats, a series of engaging community conversations about complex topics. Each week we gathered on the porch of the Governor's House where community leaders led us through conversations about local Truth & Reconciliation processes, Racism & Islamophobia, and Sexual Assault & Consent.
Thanks to everyone who attended our Porch Chat series and joined in the discussion. Through these conversations people shared suggestions for further learning, and, where appropriate, action. Several people cautioned against jumping to action without spending enough time listening to those most affected, and carefully considering our own role in making or supporting change.
Caitlin Cull, a Friend of Crime Prevention, attended all three Porch Chats and was invited to share her reflections with us. As well we have outlined a few of the suggestions for further learning and/or action.
Reflections, Learning & Action
Learning Circles from a First Nations Perspective: Truth & Reconciliation (June 9)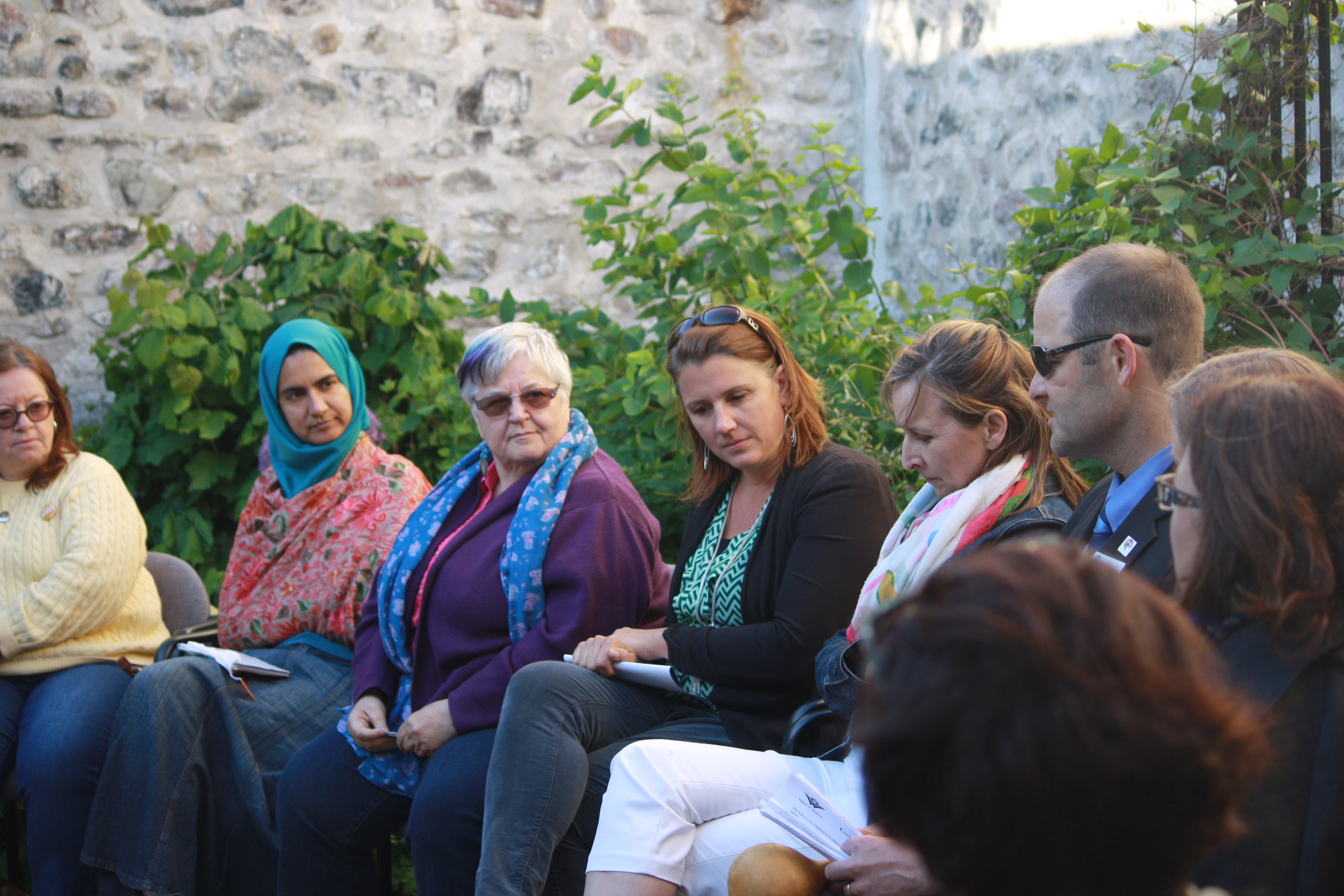 "I believe it's every person's responsibility to look for opportunities to address blind spots in our understanding. As I listened, I heard stories of intergenerational trauma of Indigenous people in Canada. It was clear that each of us can play a part in implementing the recommendations from the Truth and Reconciliation Commission." (Caitlin Cull)
Kelly Nixon extended an invitation to the Reconciliation Sharing Circles she holds four times a year (next one is November 27, 2016).
Maureen Trask shared the TRC Reading Challenge, a challenge to all Canadians to read the Truth and Reconciliation Commission Report Summary (or listen to it).
Derek Haime described the work of the TRC Learning Circle, a sub-committee of the Waterloo Region Crime Prevention Council. They've been meeting monthly to develop a proposal for a WRCPC response to the justice-related Calls To Action of the Truth and Reconciliation Commission Report.
Naming the Issue:  Race, Religion and Creating Welcoming Spaces (June 16)
"I was moved to hear stories of racism and racial profiling of young men in our community.  As a white woman with white children I will never need to worry about my children in this way.  I cannot even begin to imagine how it must be for mothers to have these sorts of concerns for their children. These stories are important to hear. Ultimately it can be so easy to turn a blind eye, but we mustn't." (Caitlin Cull)
Fanis Juma-Radstake shared the work of Young City Growers in engaging newcomer youth & harnessing their skills for community building. Fanis's work to create safe and welcoming spaces has also continued through her role in facilitating a wider community dialogue about addressing racism.
Sarah Shafiq is involved with Coalition of Muslim Women and Interfaith Grand River – watch for upcoming hate crime prevention initiatives.
Sarah also worked with community partners to get the Anti-Racism Directorate to come to Waterloo Region this fall to collect local ideas on addressing systemic racism. Look for it on October 24, 2016.
What's Your Role? Sexual Violence & Consent (June 23)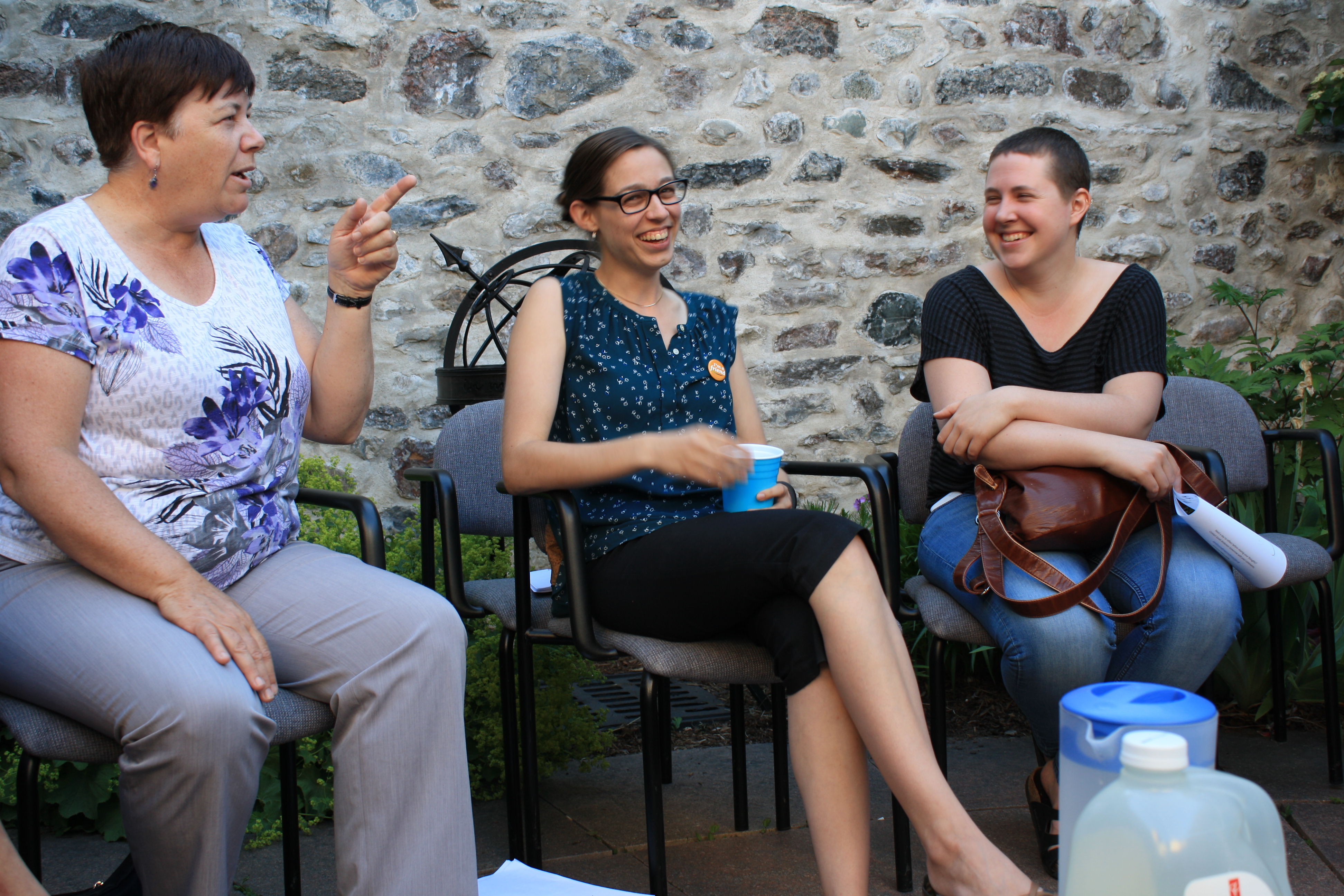 "The discussion on gender-based violence really highlighted the importance for me of making sure that we are addressing root causes and not treating symptoms. As a mother of sons I have a responsibility to raise children that are able to handle rejection and understand that others do not owe them anything. Working with young men is the first step to really addressing this problem."  (Caitlin Cull)
Eleanor McGrath shared some of her research into youth's knowledge of the legal definition of sexual consent. Recently she launched #ConsentED, an exhibit that transforms facts about consent and sexual assault into a vibrant, social-media friendly campaign. #ConsentED shows at the Laurier Campus library until December 21, 2016.
Stephen Soucie told stories about Male Allies, a project of the Sexual Assault Support Centre. Over 100 men have been trained as Male Allies in Waterloo Region and thousands of other men and boys participate in Male Allies workshops each year.
Joan Tuchlinsky talked about the need to call out micro-aggressions in everyday life. Speaking up when someone makes a racist or sexist comment helps creates a culture where hate-based and gender-based violence is not tolerated. The Sexual Assault Support Centre introduced a training program for all OHL teams about respect for women and consent. The Kitchener Rangers will pilot the training this fall.
Let's keep the conversation going.  Let us know about local initiatives that you are involved with that demonstrate further learning and action.
Tags:
consent
,
porch chat
,
racism
,
sexual violence
,
TRC